Dog Daycare

Dog Daycare is a scheduled day for your dog that includes supervised indoor and outdoor play and rest time. Playgroups are determined by your dog's size, temperament, and activity level. Each new dog must have an assessment day, which allows us to determine if your dog is appropriate for daycare, if your dog will be comfortable at daycare, and what play group(s) your dog would be best suited to. An assessment day is much the same as a regular daycare day, but we do ask that a dog parent be available to come pick up the dog if daycare isn't the right fit.
Featured Play Days:
Mondays: Dogs under 25 pounds have a special play group all to themselves! This is the only day of the week that we allow dogs that are/will be 25 pounds or less as a fully grown adult.
Monday-Friday: Dogs over 25 pounds have play group options every weekday. We do limit our Monday group to dogs that will get along with the current group simply because we only have one large dog option on Mondays.
Monday-Friday: Puppies between 8-16 weeks can come every day of the week, regardless of size! Please see the information regarding our puppy socialization opportunities to take advantage of early socialization and training.
• Half Day of Daycare: $15
    Dog daycare for either the morning or afternoon play times (morning = before 12:00pm, afternoon = after 12:00pm). *Please note that if your dog will be here any time before noon and staying until any time after noon, they will be considered a full day since they are taking up a spot in the morning play groups and the afternoon play groups.

• Full Day of Daycare: $25
    Dog daycare for any period of time between 6:30am and 6:00pm. If your dog will be in play groups both before and after 12:00pm, your dog will be considered attending a full day regardless of how long your dog is here. We have morning and afternoon playgroups, and dogs that are here over both segments are taking up spots in both morning and afternoon groups.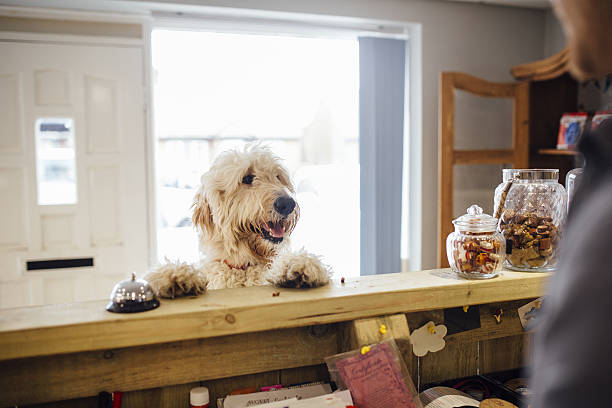 At Laughing Dogs we want to ensure that our services are beneficial to you and your dog. We start by having you fill out an application. You know your dog best, so we ask for you to tell us your dog's history, health, living environment, likes and dislikes, and anything else that only you would know.
• Half Day Assessment/Daycare Day: $15
    New dog assessment day and half day of daycare. Half day is defined as either arriving and leaving before 12:00pm (morning) or arriving and leaving after 12:00pm (afternoon).

• Full Day Assessment/Daycare Day: $25
   New dog assessment day and full day of daycare. Full day is defined as drop off before 12:00pm and pick up after 12:00pm, regardless of how long the dog is at daycare.

Once we have received your registration, we will schedule your dog's first day of daycare (the assessment day).  Your dog's assessment day allows us to:
Watch for signs of fear or anxiety
Observe body language of your dog and the dogs s/he meets
Observe your dog's greeting behavior
Ensure your dog is comfortable with other dogs
Ensure your dog is comfortable being in a daycare setting
Observe your dog's play style and energy level
Determine the appropriate play group(s) for your dog
Make recommendations for which day of the week would be best for your dog
A typical day at daycare looks like this:
| Time | Activity |
| --- | --- |
| 6:30 – 9:30 | Drop off begins and dogs are introduces to their play groups upon arrival. Play groups are active. Dogs play inside and outside (weather permitting). We have jumps, jungle gyms, tunnels and "brain games" (designed to make your dog think). |
| 9:30-10:15 | Rest time. Dogs are crated and we play relaxing music during this time. |
| 10:15 – 11:30 | Play groups are active. |
| 11:30 – 12:30 | Rest/lunch time, Pickup for our morning only dogs, Drop off for our afternoon only dogs |
| 12:30 – 2:00 | Play groups are active. |
| 2:00 – 2:45 | Rest time |
| 2:45 – 4:00 | Play groups are active. |
| 4:00 – 6:00 | Owners pick up their dogs |