Dog Daycare

• Half Day of Daycare: $21.10
    Dog daycare for either the morning or afternoon play times (morning = before 12:00pm, afternoon = after 12:00pm). *Please note that if your dog will be here any time before noon and staying until any time after noon, they will be considered a full day since they are taking up a spot in the morning play groups and the afternoon play groups.
• Full Day of Daycare: $31.65
    Dog daycare for any period of time between 6:30am and 6:00pm. If your dog will be in play groups both before and after 12:00pm, your dog will be considered attending a full day regardless of how long your dog is here. We have morning and afternoon playgroups, and dogs that are here over both segments are taking up spots in both morning and afternoon groups.
Dog Daycare is a scheduled day for your dog that includes supervised indoor and outdoor play and rest time. Playgroups are determined by your dog's size, temperament, and activity level. Each new dog must have an assessment day, which allows us to determine if your dog is appropriate for daycare, if your dog will be comfortable at daycare, and what play group(s) your dog would be best suited to. An assessment day is much the same as a regular daycare day, but we do ask that a dog parent be available to come pick up the dog if daycare isn't the right fit.
Featured Play Days:
Monday-Friday: Dogs under 25 pounds are welcome any day of the week, but Mondays are the best day for very small dogs (toy breeds).
Monday-Friday: Dogs over 25 pounds have play group options every weekday.
Monday-Friday: Puppies between 8-16 weeks can come every day of the week, regardless of size! Please see the information regarding our puppy socialization opportunities to take advantage of early socialization and training.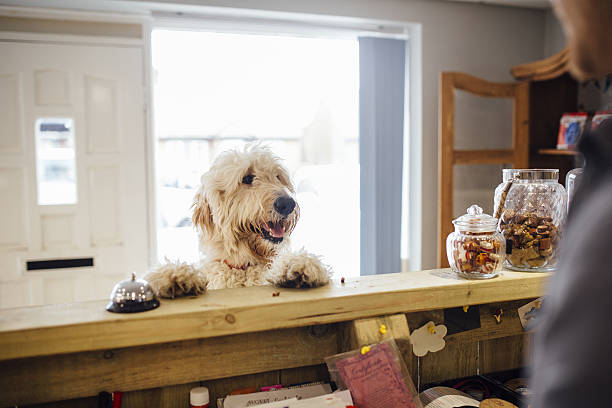 • Half Day Assessment/Daycare Day: $21.10
    New dog assessment day and half day of daycare. Half day is defined as either arriving and leaving before 12:00pm (morning) or arriving and leaving after 12:00pm (afternoon).
• Full Day Assessment/Daycare Day: $31.65
   New dog assessment day and full day of daycare. Full day is defined as drop off before 12:00pm and pick up after 12:00pm, regardless of how long the dog is at daycare.
At Laughing Dogs we want to ensure that our services are beneficial to you and your dog. We start by having you fill out our online information forms. You know your dog best, so we ask for you to tell us your dog's history, health, living environment, likes and dislikes, and anything else that only you would know. Please be as honest as possible so we can ensure the safety and wellbeing of all dogs in our care, and determine the best option for groups for your dog!
Once we have received your registration, we will schedule your dog's first day of daycare (the assessment day).  Your dog's assessment day allows us to:
Watch for signs of fear or anxiety
Observe body language of your dog and the dogs s/he meets
Observe your dog's greeting behavior
Ensure your dog is comfortable with other dogs
Ensure your dog is comfortable being in a daycare setting
Observe your dog's play style and energy level
Determine the appropriate play group(s) for your dog
Make recommendations for which day of the week would be best for your dog
Individual Play/Special Small Groups and Puppy Program
---
Individual Play/Special Small Groups
• Half Day Individual/Special Small Group: $26.38
• Full Day Individual/Special Small Group: $42.20
We recognize that full group play is not right for every dog, but that some owners still need care for their dogs while they work or travel. We also find that some dogs prefer small groups of calm dogs, or we find that they can play with one or two other dogs but not in a full daycare group. We do still offer care for these dogs that includes individual time with staff, or specialized small group time with a couple other dogs. These dogs do rest more during the day, but because they require 1:1 time from our staff, these arrangements do cost a bit more.
Puppy Program
• Full Day: $42.20
• Half Day: $26.38
We do offer daycare for puppies between 8-16 weeks old! This is a separate program from our regular daycare program as puppies under 16 weeks are generally too young to play in a full group of daycare dogs. A puppy's first day of daycare (and sometimes the first few days, depending on how frequently they attend) will consist of environment exploration. We don't want to overwhelm puppies so most often, then stay up in the office with our staff. Puppies of course get plenty of extra opportunities to potty outside so we can work on potty training.
We slowly begin introducing puppies to very specific adult dogs. Sometimes we allow puppies to play with other puppies, but puppies also teach each other bad habits, so allowing puppies to socialize with adult dogs who are good teachers and helpers for puppies is important. We gradually introduce the puppies to new dogs each time they attend daycare, and then slowly integrate them into a full daycare group. Usually around 14 weeks we try to get puppies who are comfortable into a full daycare group with smaller dogs for short periods of time. Puppies always need more rest than adult dogs, so they play for 20-30 minutes, and then rest for 30-60 minutes, play and rest, all day long.
Around 16 weeks (sometimes closer to 18 weeks depending on the puppy), we hope to have puppies integrated into full group play. Once puppies are in full group play and are no longer needing special attention, care, or small groups, the rate for their daycare drops to the base daycare rate. Puppies do cost a bit more their first 16-18 weeks because our staff do quite a bit more work with puppies.
If we feel that a puppy is not ready for full daycare, or may never be ready, we will have a conversation with the parent(s) about a plan for their puppy moving forward.